To make PDF content more accessible, users mainly need to convert PDFs to other formats. For example, a student may need to convert a PDF file to Word format because of institutional requirements. A receptionist may need to convert PDF to Excel files to understand data entries better. Diversified tools are present on the web, which can help you to convert PDFs. 
Yet, you need to work with the most effective one to eliminate all risks and mistakes. Therefore, this article will discuss the best PDF converter named UPDF. You will also learn how to convert single or multiple PDF files to other formats.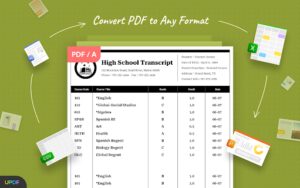 Part 1: Overview of the Best PDF Converter
UPDF stands above in the list of best PDF converters because you can use it without worrying about the internet, as it's an offline tool. Additionally, it has all the PDF tools that are required to make several types of modifications in a PDF file. This best PDF converter also supports many document formats so that you can work with it without any limitations. 
Luckily, UPDF supports several major operating systems, like Windows, Mac, iOS, and Android, to help you use the same tool on multiple devices without any limitations. The interface of UPDF is well-structured and aesthetically pleasing. You will definitely enjoy the usage of this tool. Besides this, the processing speed is blazing fast, making it a reliable tool for converting PDFs.
Part 2: How to Convert PDF to Other Popular Formats
Now that you know about the higher functionality of UPDF, you must be wondering about its usage. Luckily, UPDF is a very easy-to-use tool and always leads to desirable outcomes. The steps to convert single and multiple PDF files into other formats will be listed here. You can follow them to eliminate all the confusion:
Step 1: Access UPDF and Import the PDF File
The first thing you have to do is to access the UPDF tool from your device and click the "Open File" button. Following this, import the PDF of your choice.
Step 2: Convert the PDF File
Once the file is opened in UPDF, click on the "Export PDF" button from the right toolbar, and from the enlisted options, you can select the format in which you want to convert the PDF file. After choosing the format, you can manage the "Document Language" and "Page Range."  
Step 3: Save the Converted File in the Device
As the settings are modified, click on the "Export" button and select the "Folder" of your choice from the pop-up window. You can also rename the file for convenience. After this, hit the "Save" button to save your converted document. This is how you convert PDFs with UPDF.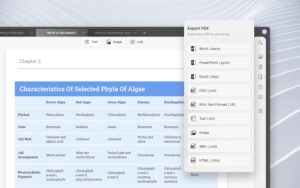 Part 3: How to Convert Multiple PDF Files with UPDF
Step 1: Launch UPDF and Import PDFs
To get started, launch UPDF on your device and select the "Batch" tool from the main interface. Following this, hit "Convert" and select "Add Files." Now add the files you want to convert.
Step 2: Convert Multiple PDFs
From the right side of the screen, select the "Output Format:" dropdown menu and choose a format. You can also manage "Document Language" and "Layout Settings." Hereafter click on the "Apply" button to proceed with the process. Afterward, select the folder from the pop-up screen and hit the "Select Folder" button.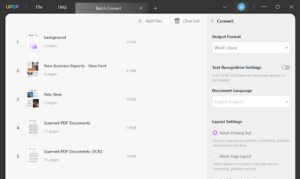 Part 4: Other Prominent Key Features of UPDF
To help you understand why this tool is the best PDF converter for users. We want to guide you that the UPDF has a diverse set of features that can help people belonging to every sector, and you can find some of its features here:
1. Edit PDF Files
With the help of UPDF, you can edit PDF files in the most reliable ways. You can resize fonts, change the text font, and also customize its color according to your needs. For more elegancy and a professional look, you can also align, bold, and italicize the text.  
It not only allows you to edit text, but you can also add new text anywhere in the PDF. As for the images, it allows you to rotate, extract, crop, and replace them. Above all, you can also add links in PDF and edit them by changing their color and font. You can also link the text of the document to the web pages.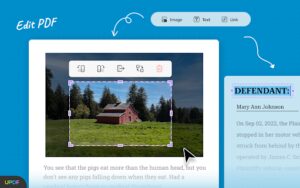 2. Organize PDF 
A large number of pictures, text, and illustrations can mess up the layout of a PDF file. It is a very common and problematic scenario; however, you can easily cater to it. By using the organize feature of UPDF, you can proficiently manage large and complicated PDF files. 
UPDF allows you to insert, replace and extract pages from a PDF. You can also split a PDF into smaller files as per the page ranges. Rotating and deleting PDFs is also possible in UPDF.  
3. Annotate PDF
Annotate is one of the most known features of UPDF. With this, you can highlight and underline all the essential text in a PDF. Moreover, you can also add squiggly lines in noticeable quotes and sayings. The strikethrough tool is beneficial in marking up unimportant text. With a text box and text comments, you can also add new text in a PDF. 
By using sticky notes, you can also add easily accessible notes and summaries on every page. Pencil, eraser, and shapes help in adding customized illustrations in a PDF. The stickers are very helpful in making PDFs more engaging.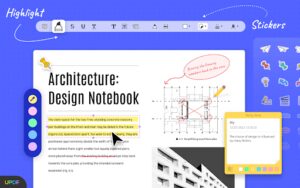 4. OCR PDF
The OCR PDF feature in UPDF further offers you two options for applying the OCR to the document. It includes searchable PDFs and image-only PDFs. You can also manage the layout from the three options, such as text over the page image. It supports 38 languages, so you can also select the language of a PDF without any problem.  
Part 5: Reasons to Stop Working with the Online PDF Converters
There are several reasons which show that you shouldn't work with online tools to batch-convert PDFs. We have explained some of these reasons over here to help you understand.
Poor Security: Online PDF tools mainly have many security issues. The chances of data breaching are also high, which can lead to the leakage of data.

Slow Speed: If you are working with the online PDF tool, you need fast internet to work perfectly. Otherwise, they will lag and interrupts your performance. 

File Size Restriction: All the online PDF tools available in the market have file size limitations. Some of the online PDF editor's limitations vary from tool to tool, and some have the same restriction for all their tools. 
Conclusion
Considering all the discussion above, UPDF is the best PDF converter because it always leads to desirable results. Moreover, it is a very easy-to-use tool that works at blazing fast speed. You can also convert single or multiple files with it. The process of accomplishing these tasks is also instructed above for optimized performance.